Cleaning of ventilation ducts in French-speaking Switzerland
---
Professional cleaning services of ventilation ducts in the cantons of Geneva, Vaud, Valais, Fribourg, Neuchâtel and Jura.
---
We take care of the cleaning, maintenance and dusting of ducts and ventilation systems. That is to say the cleaning and maintenance of HVAC ducts or VMC for Controlled Mechanical Ventilation. We are a Swiss company based in Geneva and we intervene on all the French-speaking Switzerland.
Cleaning of HVAC installations for heating, ventilation and air conditioning
The cleaning of ventilation systems includes for example the following components:
Ventilation ducts
Ventilation systems
Air conditioning circuits
Flexible or rigid CMV ducts
Flexible or rigid HVAC ducts
Air conditioning filters
HVAC Engine, Heating Ventilation and Air Conditioning
Complete aeraulic circuits for HVAC installations
Our cleaning methods for ventilation systems
To do this, we use two different approaches:
Vacuum cleaning
Cleaning by diffusion
The cleaning of the ventilation systems by aspiration
Vacuuming is the use of specialized equipment to remove dust and debris from the ductwork and components of the ventilation system. This method effectively removes impurities and ensures optimal operation of the system.
The cleaning of ventilation systems by diffusion
Diffusion, on the other hand, consists of introducing a cleaning product in the form of a mist or vapor into the ventilation ducts. This process removes dirt and bacteria that may have accumulated on duct walls. The cleaning agent is then evacuated by the system, thus ensuring optimal cleanliness.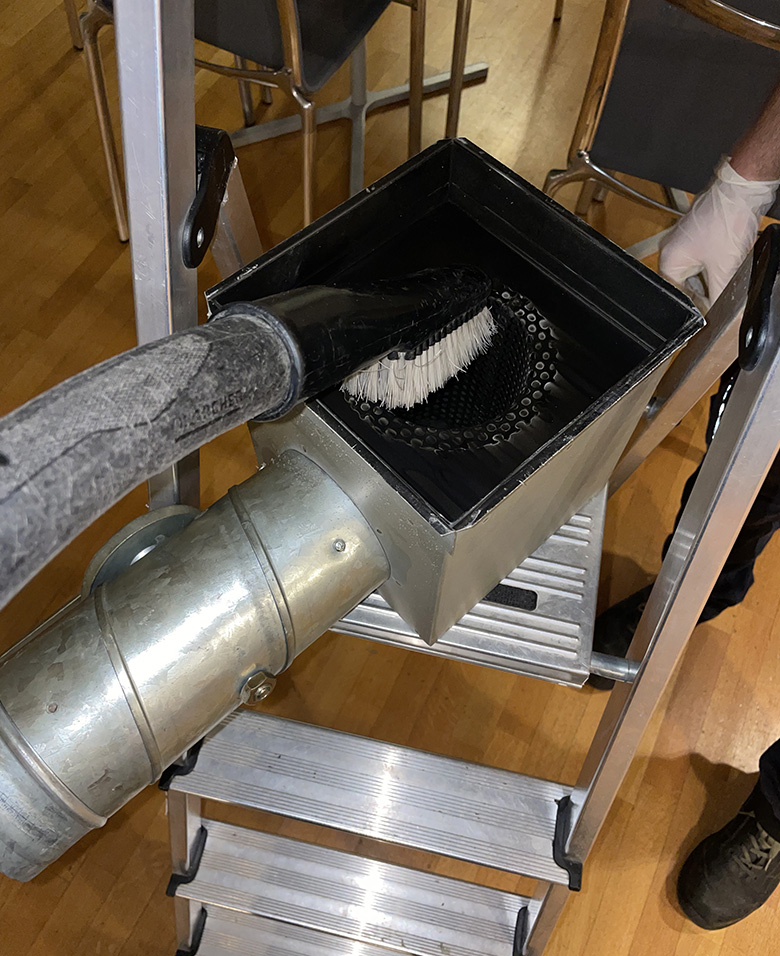 Regular maintenance of ventilation systems is necessary
Excessive dust in the ducts and the exhaust unit can cause a rapid decrease in the performance of ventilation systems, allowing the spread of bacteria and germs in homes, apartments or business premises. A poorly maintained ventilation system can have a negative impact on indoor air quality and, consequently, on the health of the occupants.
Reduced performance of mechanical ventilation can also cause moisture problems, such as mold growth in bathrooms, kitchens and all wet rooms. Molds can cause allergies, asthma and other respiratory problems in sensitive individuals. In addition, they can cause structural damage to buildings by deteriorating building materials.
To avoid these problems, regular maintenance and cleaning of ventilation systems is essential. By removing dust and other accumulated particles, we can improve system performance, ensure better indoor air quality and prevent moisture problems. Regular maintenance also extends the life of the system and reduces long-term maintenance costs.
To clean the ventilation ducts, a careful preparation of the material and consumables is planned. The cleaning is done in a safe and controlled way, with vacuum cleaners to limit the fallout of dust on the site of the intervention.
A professional service and follow-up
We are committed to providing quality service and ensuring the cleanliness and proper operation of your ventilation or HVAC systems, using the most appropriate methods of extraction and diffusion for your needs.
To guarantee an impeccable quality of service, we adjust our intervention protocols and our equipment according to the specificities of your climate installations. This allows us to respond effectively to the challenges and constraints of different types of ventilation and air conditioning systems.
Vacuum cleaners from G4 to H14 (HEPA) filters
Our vacuum cleaners and central vacuum units are equipped with filters ranging from G4 to H14. G4 filters are low-efficiency filters, primarily used to capture larger particles. H14 filters, on the other hand, are very high efficiency (HEPA) filters, capable of retaining up to 99.995% of airborne particles, including bacteria and viruses.
The use of these various filters allows us to prevent the dispersion of dust and other fine particles in the premises during our cleaning or maintenance interventions. This not only ensures a clean and healthy environment for the occupants, but also helps to extend the life and improve the efficiency of your climate systems.
Photos of construction sites during duct cleaning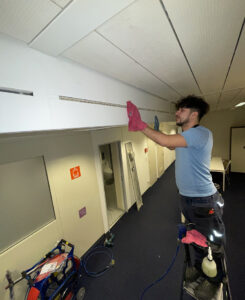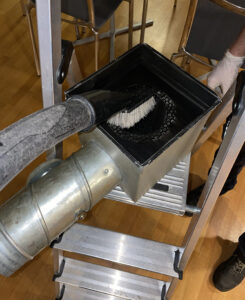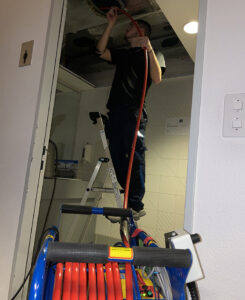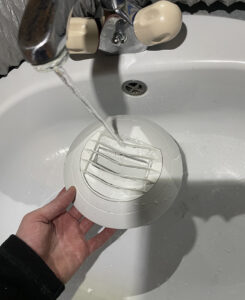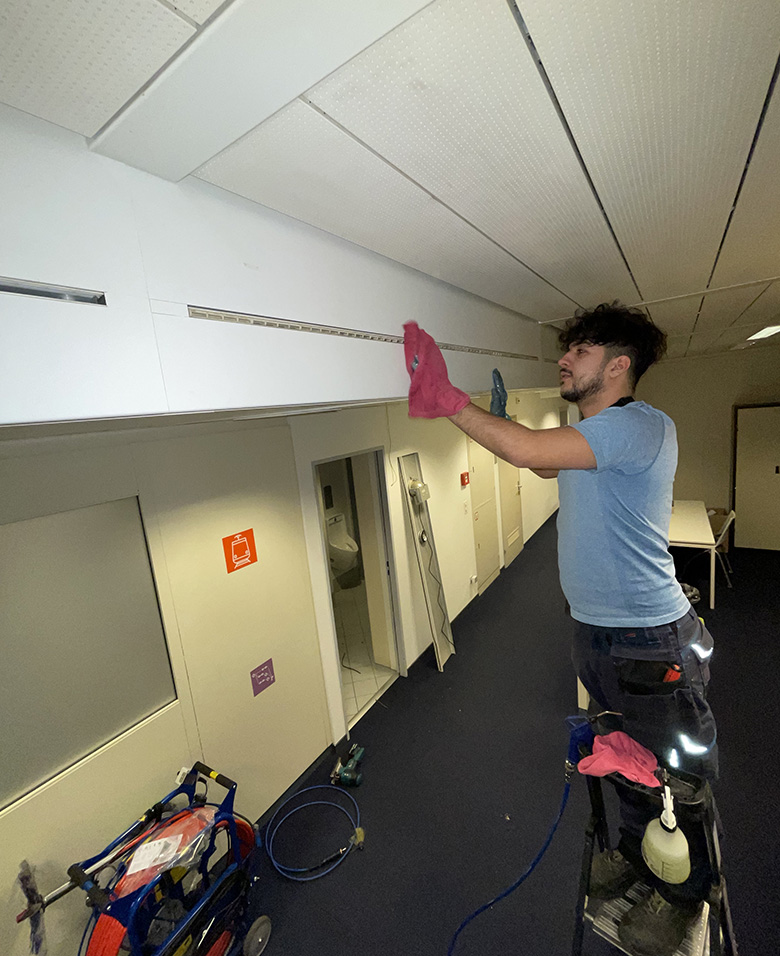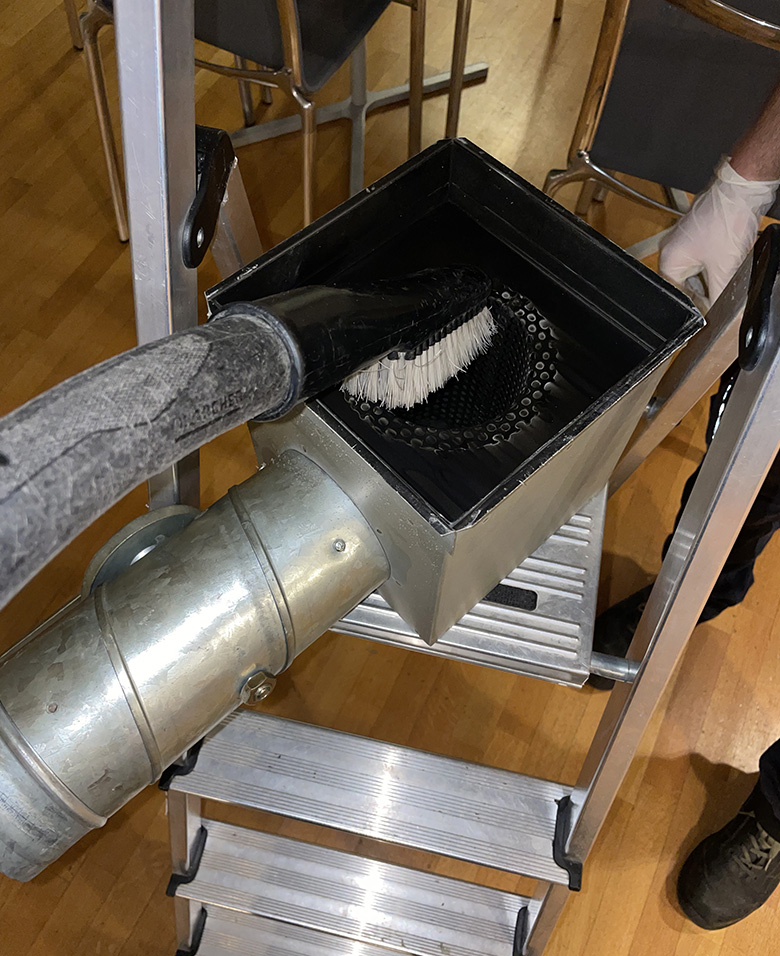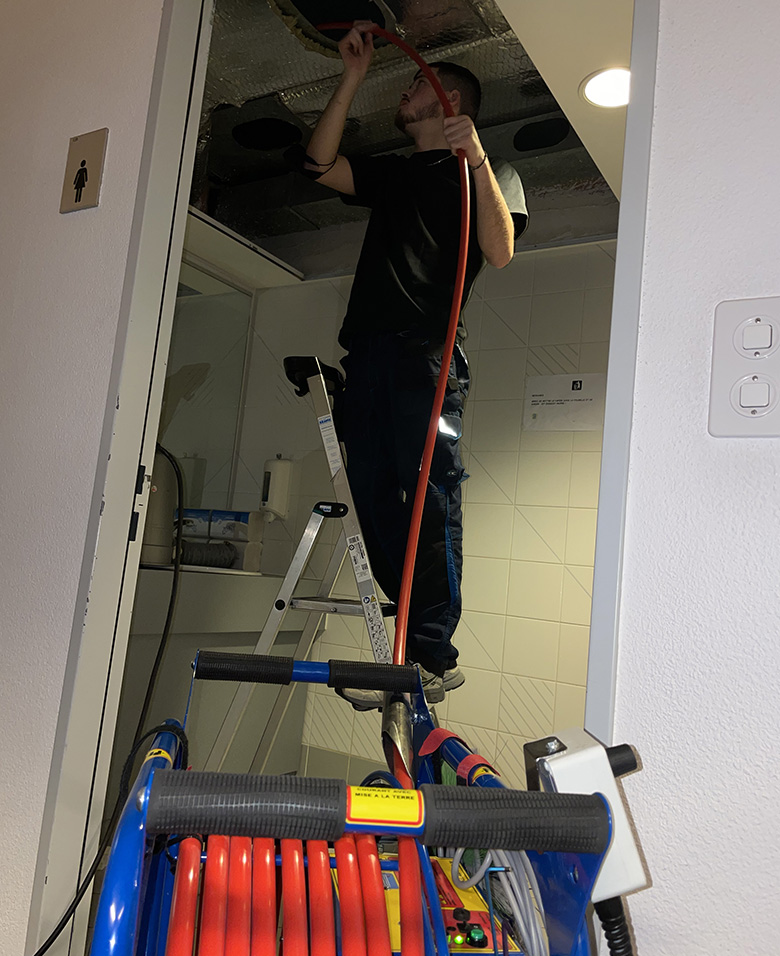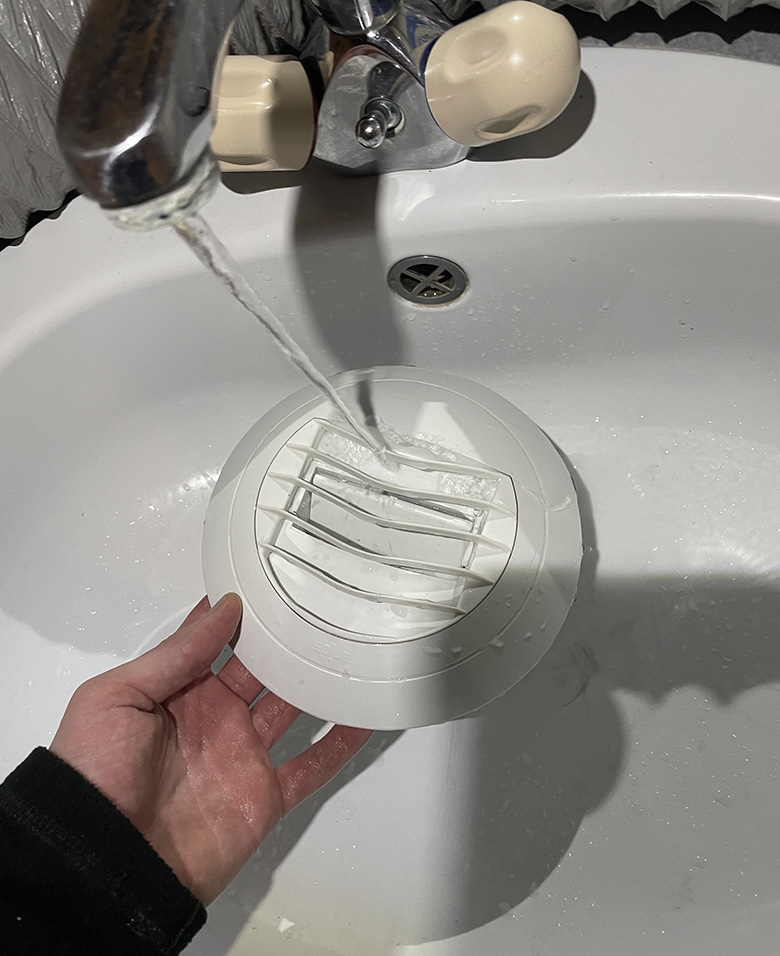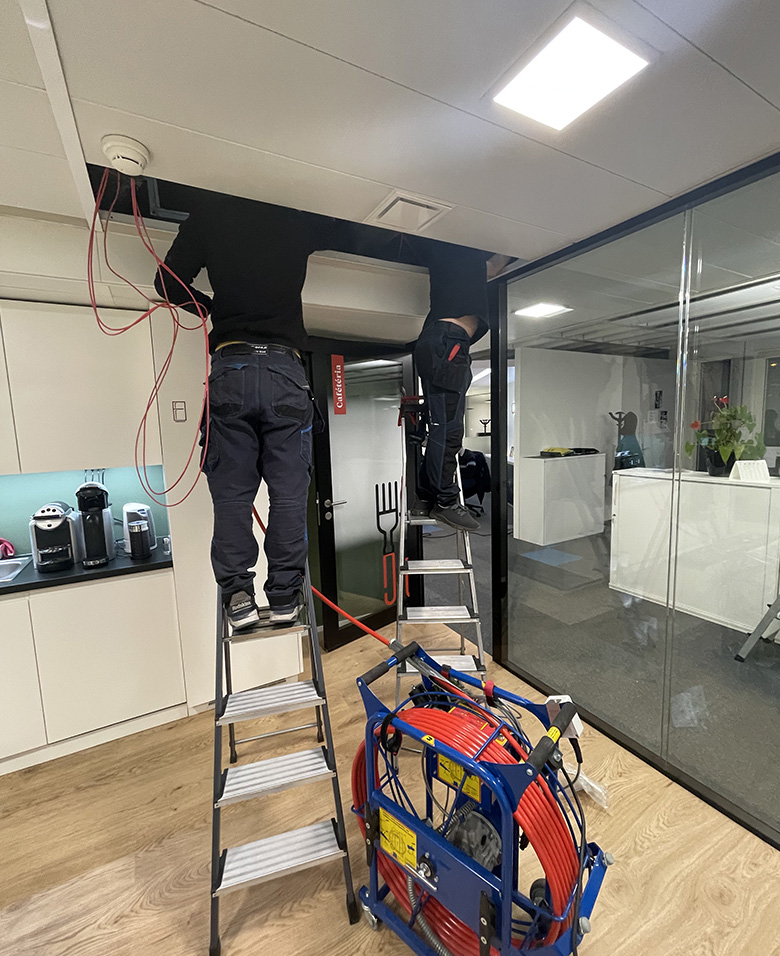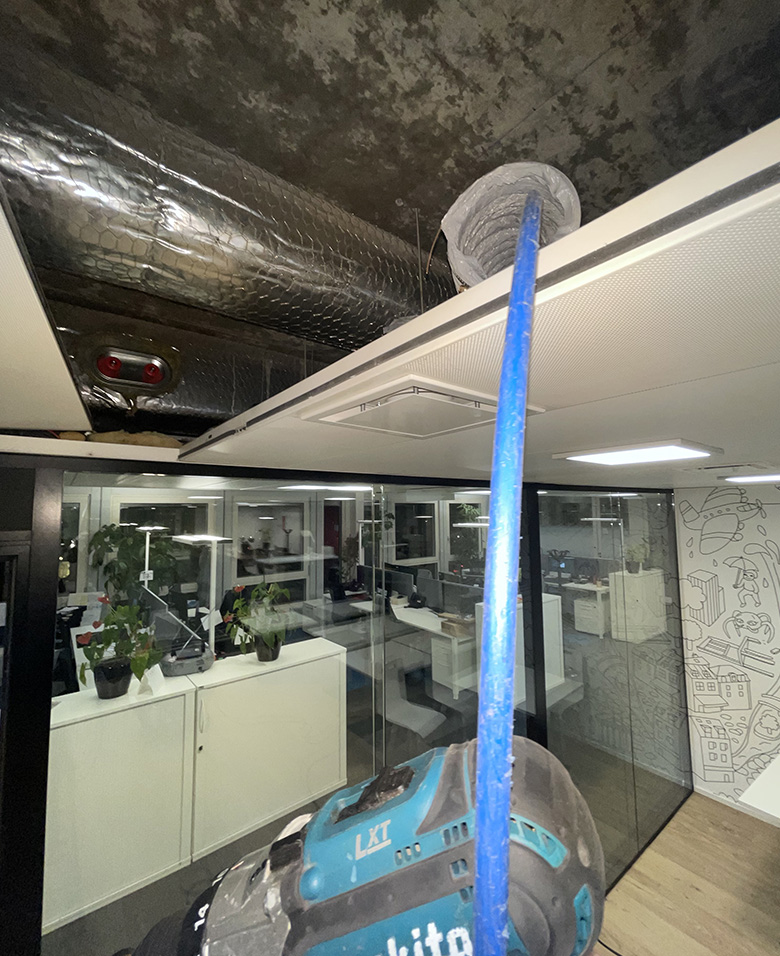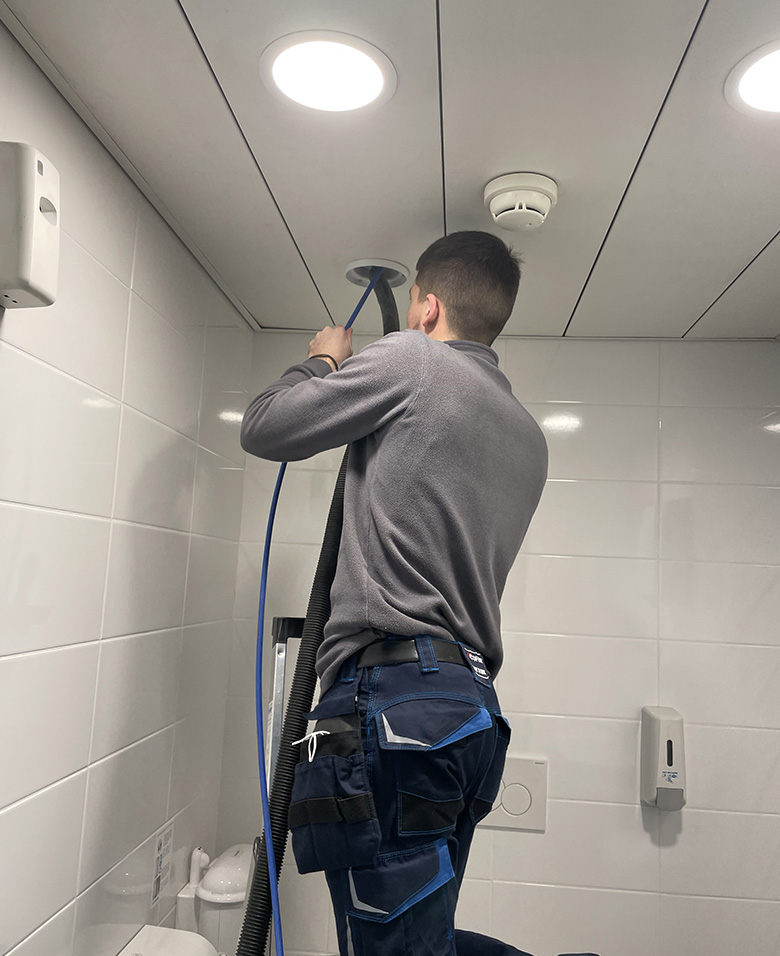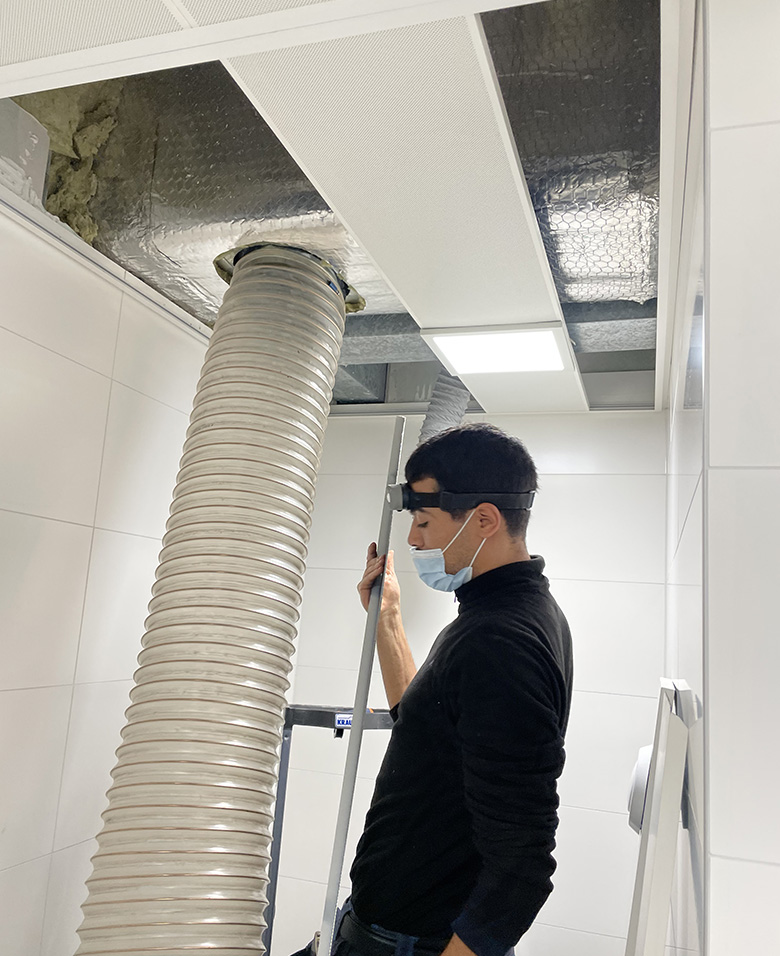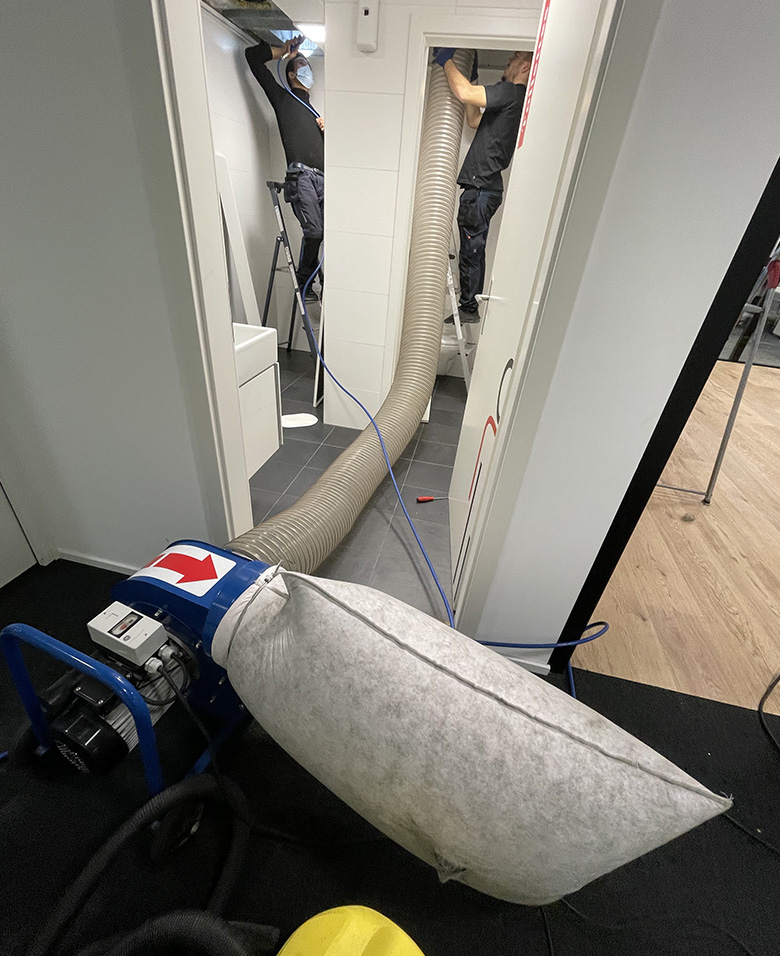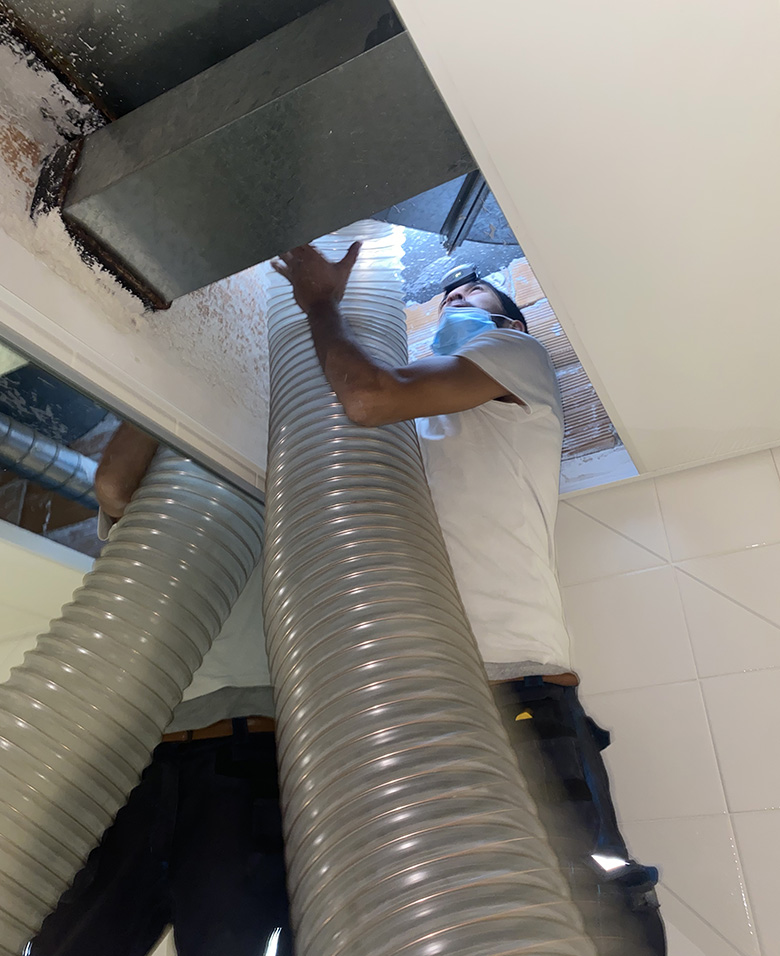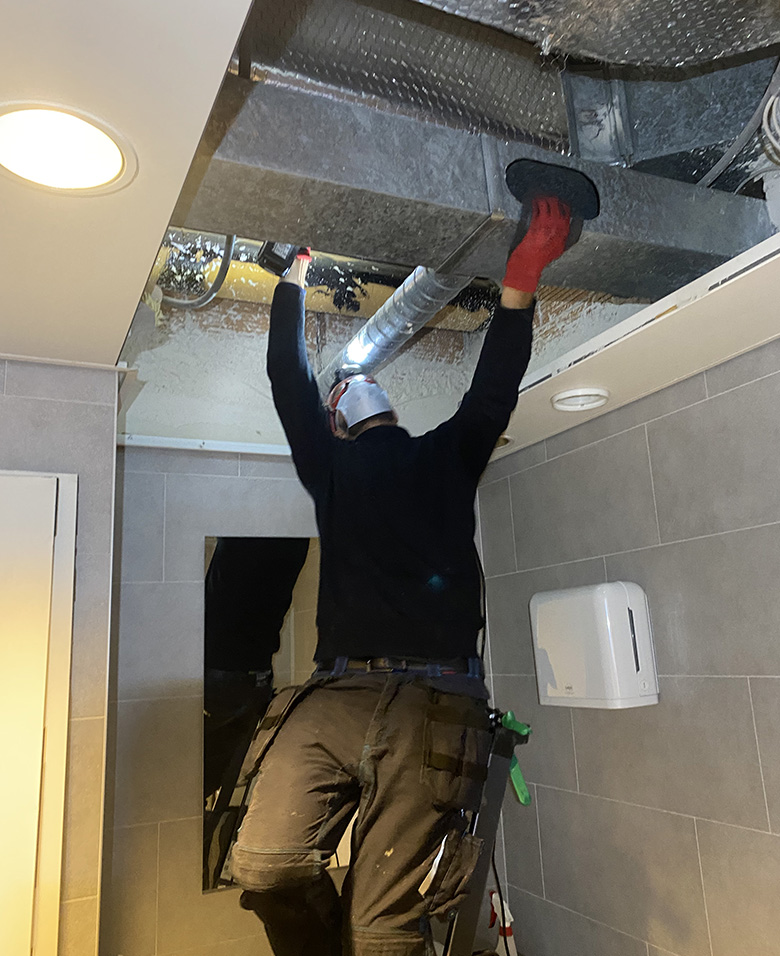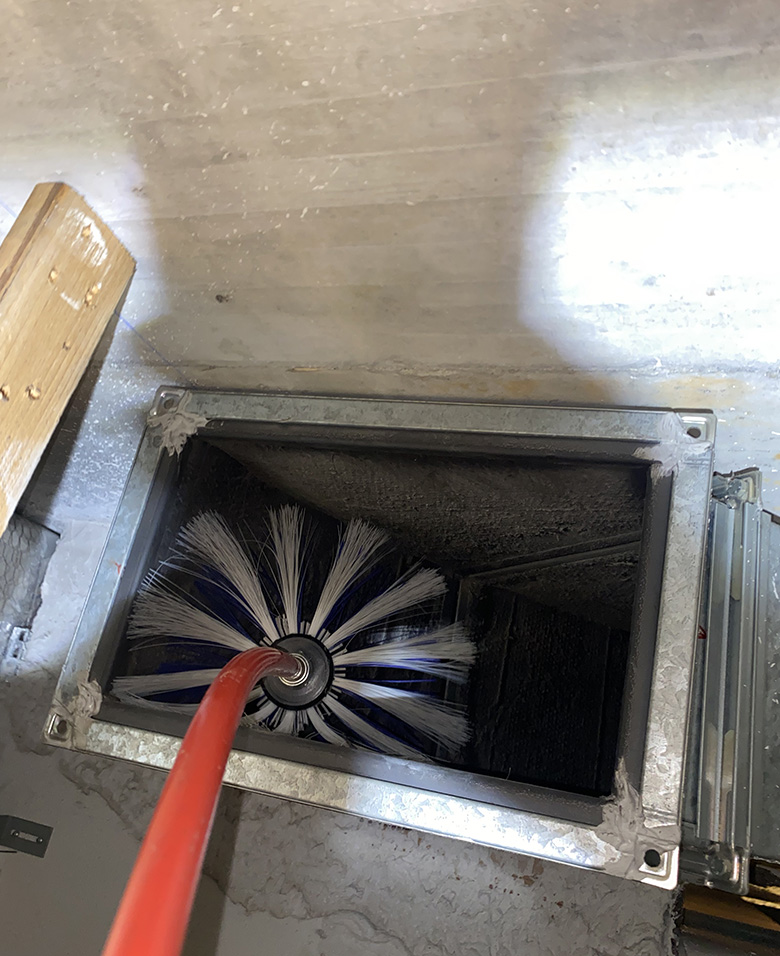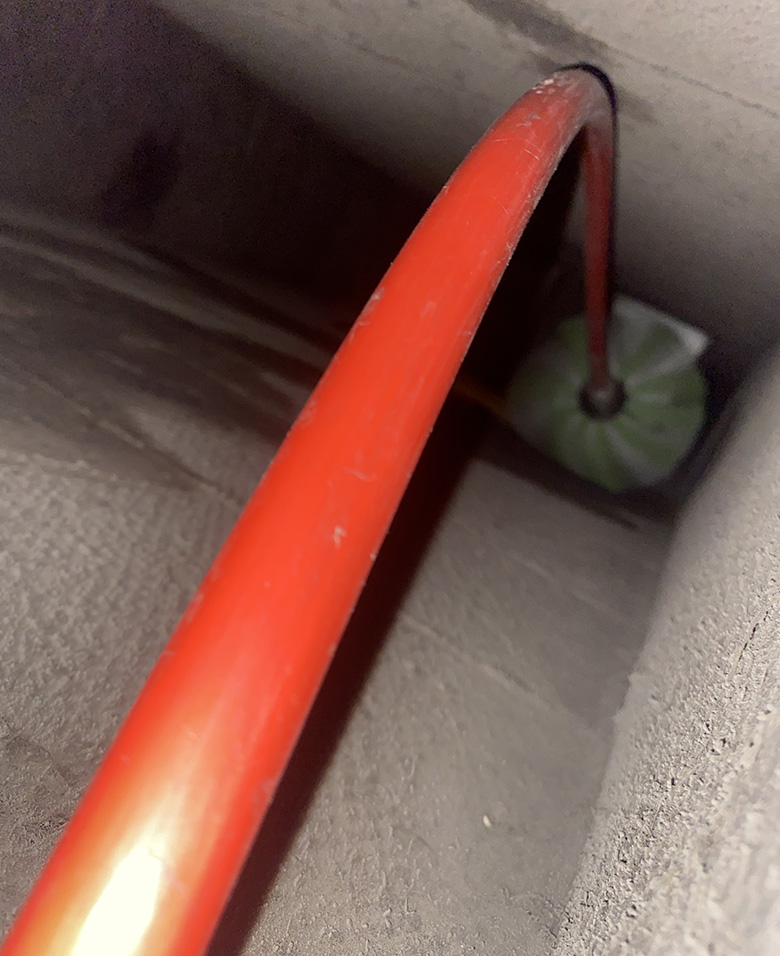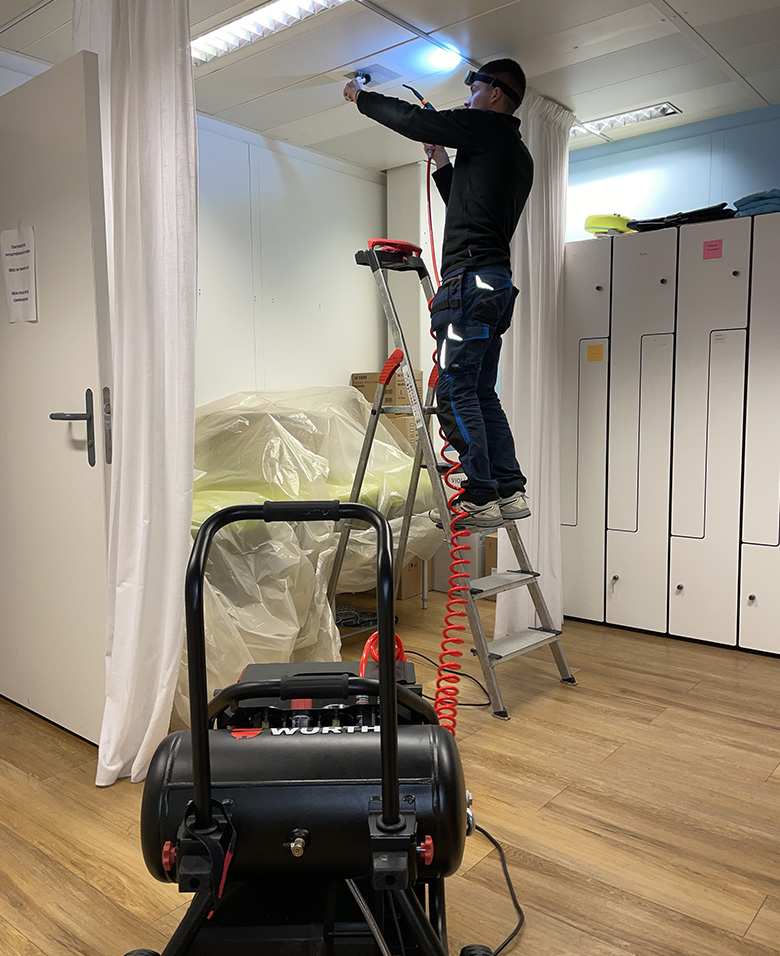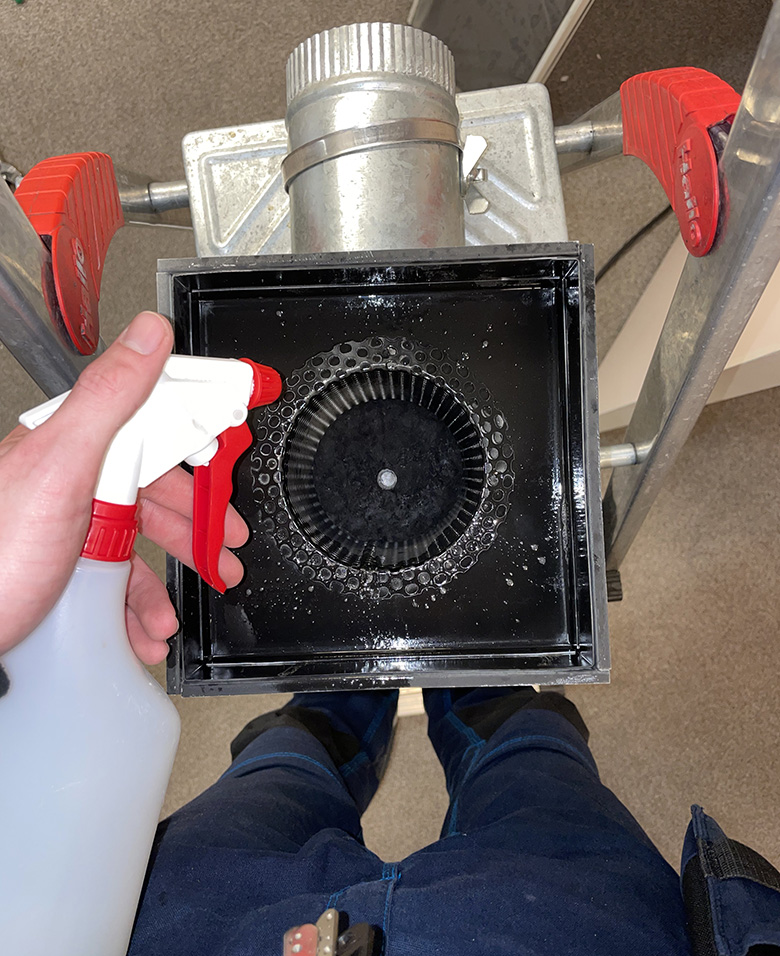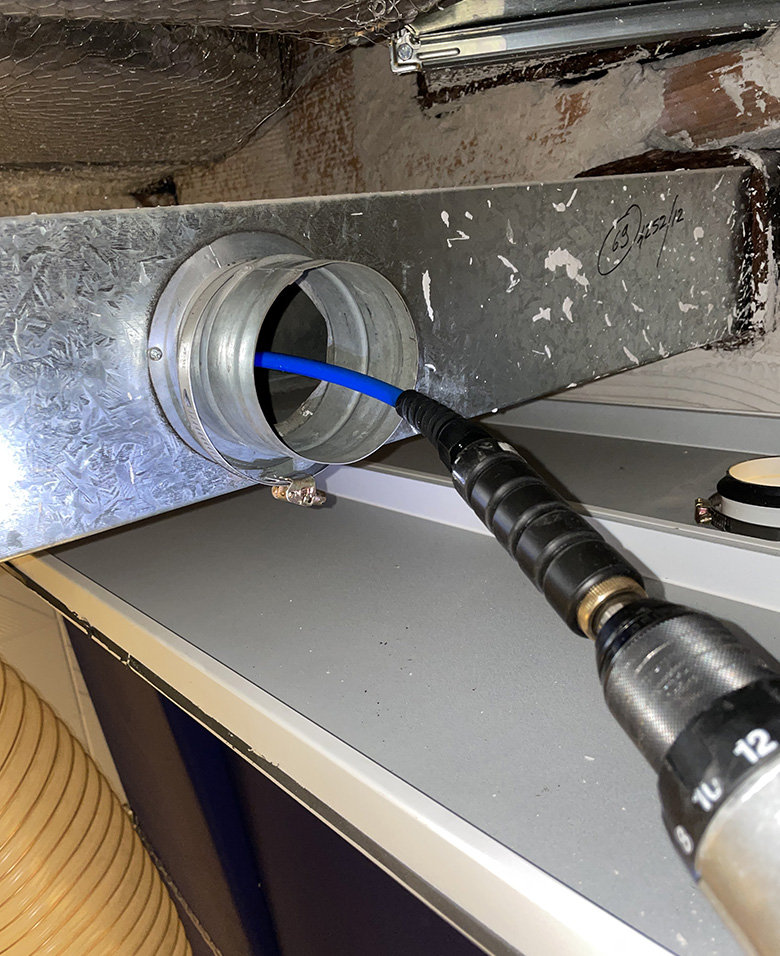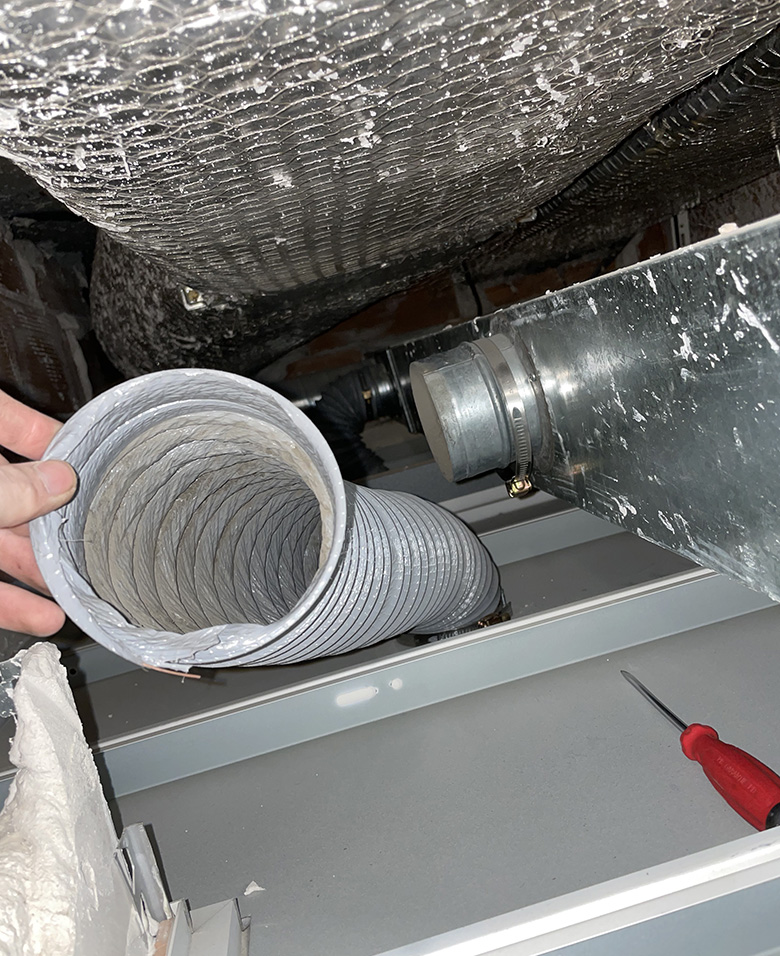 By adapting our intervention protocols and our equipment to the specific constraints of your installations, we are committed to provide a high quality service. A service that meets your specific needs and expectations, while ensuring the cleanliness and proper functioning of your ventilation and air conditioning systems. And also all the equipment in the location.